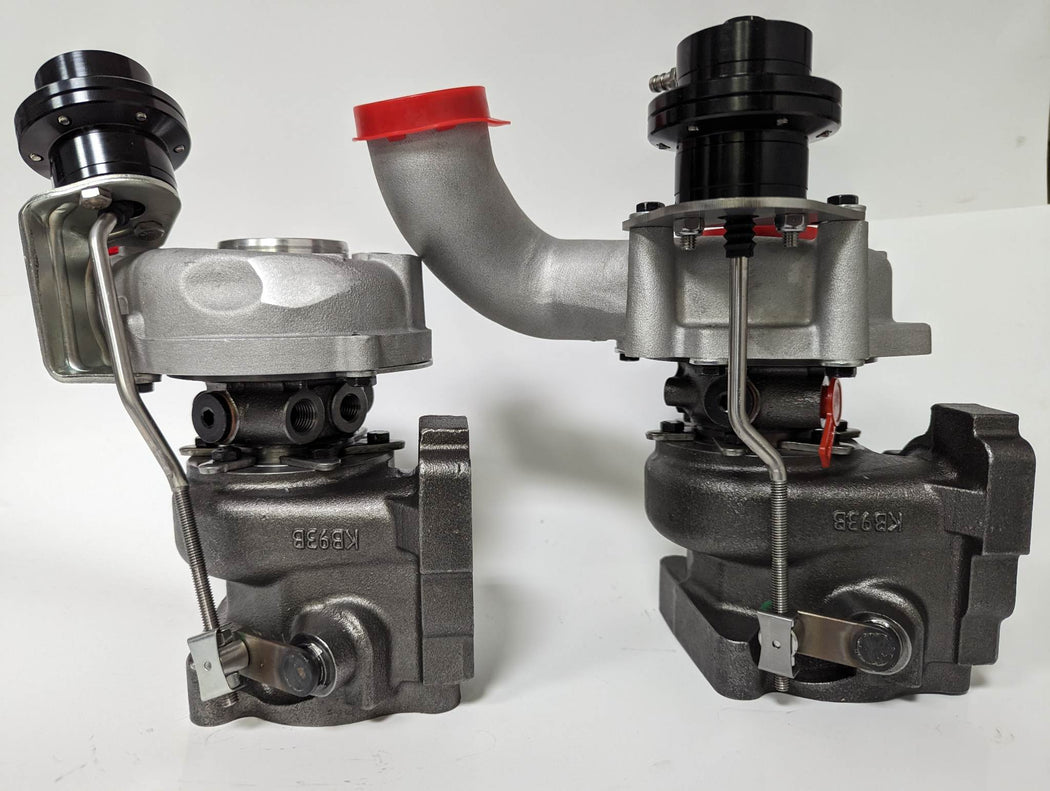 Audi B5 S4 2.7t JAE RS6 / RS4 Turbos 4644 (High Flow Turbine)
We are pleased to offer our dyno and dragy proven custom specification turbos.  These turbos utilize an RS4 compressor housing, RS4 turbine housing or RS6 turbine housing, larger then OEM RS6 compressor wheel and a high flow RS6 turbine wheel.

The turbine wheels allows us to lower back pressure limited by housing sizes which lets the engine breathe easier.  The RS4 turbine housing has been shown to make 20psi by 3500 RPM while the RS6 turbine housings makes 20psi by 3800 RPM (mods and engine health will change these characteristics).  We have been able to make 500whp on 94+Meth on the RS4 housing and 640whp on E70+Meth on the RS6 housing.

The RS4 turbine housing setup features a full sized backing plate to increase efficiency as well as a 9 blade design which is lighter and flows more to increase spool up and decrease back pressure.  
The RS6 turbine housings utilizes a 5+5 blade design turbine wheel to further decrease backpressure

A benefit to purchasing these turbos is the ability to upgrade just the rear housing to reach a higher power goal.

Turbos are supplied with basic wastegates but we highly recommend swapping to Mamba or Tial to ensure less actuator issues.  With heavy springs or ample use of launch control, NLS and RAL expect that the wastegate rod connecting the flap to the lever arm will twist and require adjustment via the wastegate arm.