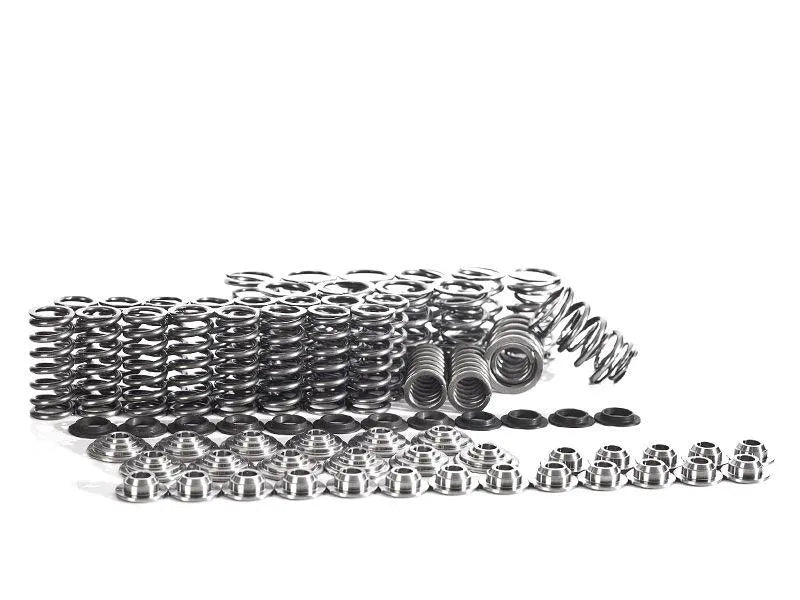 Audi B5 S4 2.7t Supertech Valve Springs
An absolute must for anyone wishing to stretch the powerband of their 30v engine out past 7500 rpm or so safely. These take a two pronged approach by increasing the spring rates, meanwhile reducing the mass of the retainer, by using titanium. The use of titanium provides an adequate fatigue life to be acceptable for all but the highest mileage street use. These will allow usage up to 8000 rpm although we have used them for occasional use to 8500rpm on hydraulic lifters. 
Supertech Valve Springs
All Supertech valve springs are made with premium Superclean Chrome Silicon Vanadium Steel alloy for higher performance & durability at high rpm. Using high-quality steel alloy also provides the added benefit of a better structural memory of the spring. The valve springs are computer designed to ensure that wire stress levels do not overpass the limits of stress defined in the diagrams of fatigue. This software also allows Supertech to ensure that the harmonics are under control, this advanced technology is combined with high-quality steel alloy making Supertech valve springs more durable in extreme conditions. Supertech valve springs give your performance street or race engine a serious competitive advantage in both performance and durability.
Supertech Retainers
Supertech retainers are manufactured with high-quality military grade Titanium alloy and CNC machined for an exacting fit.
Dual Valve Spring Kit: 
Type: Dual Spring
Press.Seat: 60 @36.60 intake
Max Lift: 13.60in / 13.70ex
Coil Bind: 23.00in / 19.50ex
Rate: 6.70in / 10.00ex (lbs/mm)
Retainer: RET-AU5VI/T2 Intake (18)
Press.Seat: 80 @ 33.20 Exhaust
Retainer: RET-AU5VE/T1 Exhaust (12)
Seat Locator : SEAT-H1000 Exhaust only (12)
Spring : SPR-A2095 intake (18)
Spring : SPR-H1002D-AU Exhsut (12)